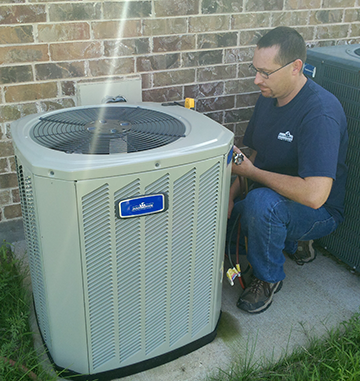 Proudly serving Rockwall county and the surrounding communities, we've been involved in the residential heating and air conditioning business since 1997. We are licensed and insured to provide home owners with the confidence they need to feel comfortable with our workmanship. Our core business services provide installation and servicing of heating and air conditioning systems to help provide comfort to our friends, family, and community.
Jackson Services offers free estimates as well as free second opinions for installations. We take pride in our work, that's why owner, Mark Jackson, put his name right in the company logo – you know who to contact for all your Heating and Air Conditioning needs: Jackson Services.
We are committed to helping you create and maintain a comfortable home or office environment with simple communication, ethical practices, and quality outcomes.
Every year, we spend numerous hours involved in continuing education courses and training in order to stay up to date with all the new models of equipment. You'd be surprised how the smallest changes might affect a unit or system.  We are certified, licensed, insured, and committed to continuous training, so we can give you the most positive and professional experience.
Installation
You can expect to find that we use well known systems, such as Rheem, Frigidaire, and American Standard. No matter what brand your current system is or if you prefer a particular brand, we'll be happy to help you understand how to get the best value for the products you prefer.
Repair
From a lack of cold air, to thermostat issues, and strange sounds and smells, contact us for any inconsistencies in the comfort level of your home.  These can be signs that some part of your system is in need of repair.
Maintenance
While in the attic of your home, we can inspect the insulation and give you a quote on increasing the R-Value (depth of insulation) to keep your heating bills minimized. We have references for blowing attic insulation, so just ask!
Ask us about Wifi thermostats!
Frequently Asked Questions
Just as every home is different, each person has different comfort levels and preferences.  Not only that, but they also have varying levels of education on exactly what's involved in the different aspects of installation, repair and maintenance.  Check out our list of questions below that we get asked often.  There's so much more to HVAC than what meets the eye.  Did you know that the three central functions of heating, ventilation, and air-conditioning are interrelated?  Especially with the need to provide thermal comfort and acceptable indoor air quality within reasonable installation, operation, and maintenance costs, HVAC systems can provide ventilation, reduce air infiltration, and maintain pressure relationships between spaces.
When do I need to have my unit serviced?
You should have a regular tune-up twice a year -- typically at the beginning of each heating and cooling season -- to ensure that your system is working efficiently before the weather gets too hot or cold. However, tune-ups may be scheduled at any time.
Do I really have to change my air filter often?
Yes. Changing your air filter at least once every 3 months will not only help you save on your monthly bills but also will help extend the life of your system. Changing your filter EVERY month is even better. All of the air in your home circulates and re-circulates through the same filter attached to your indoor unit. Designed to remove dust particles to keep the air you breathe clean, filters become clogged, causing your system to work less efficiently and costing you more to operate it. If left unchanged long enough, your system could fail completely.  Ask us how you can get your filters free all year.
My HVAC system is over 7 years old and runs constantly. Can it be repaired?
Even if your system is still working, depending on the type of system in your home today, you could recoup your investment in a new system in as little as 3 years. That doesn't mean that your system absolutely has to be replaced. Heating and cooling systems have made tremendous gains in efficiency over the past 5 years, so if you have an older system, it is worth taking a look at whether it would make sense to go ahead and upgrade now.
Are seasonal maintenance plans worth the investment?
Each spring and each fall before you start using your cooling or heating system, you should get a tune-up to ensure your HVAC system is ready for the season. By spending a little twice a year, you can save a lot in energy bills by keeping your system operating at peak efficiency. You also can avoid costly repairs by identifying and fixing minor problems before they turn into big ones. Plus, many homeowners don't realize that their manufacturer warranties may be considered invalid if they aren't getting their unit serviced twice a year.
What is the average life expectancy of a system?
Most systems have a lifetime of 10 to 20 years. As your equipment gets older, its efficiency can decrease dramatically. You may notice that it gets noisier and needs repairs more often. When a unit begins to show its age, you have two choices -- You can overhaul the system or replace it. Because heating and cooling technologies improve over time, a new system designed with newer, more energy-efficient equipment makes sense, especially if your system is 7 or more years old. Our authorized service providers can provide a FREE in-home  estimate of the cost of a new system as well as a payback schedule that will show you how much a newer, more efficient system will pay you back in lower utility bills. Try our
HVAC Savings Calculator
to see how much you can save with a higher efficiency unit.
What determines if I need to replace rather than repair my unit?
If your unit is 7 years old or older, requires frequent repairs or stops working, fails to heat or cool areas of your home, runs excessively or constantly turns on and off, or produces high utility bills, it can be more economical to replace your existing system.
How do I know if I need a new heating and cooling system?
We can send a home comfort specialist to your home for a FREE consultation to examine your home inside and out to determine the right system for your needs. Many homeowners assume that a new HVAC system will solve their problems, and sometimes that is the case, but frequently there are underlying issues that need to be addressed simultaneously to achieve the kinds of efficiencies possible with a new unit.
How can I reduce my energy costs?
Here are some suggestions that can help you reduce your energy costs:
•  Upgrade to a high-efficiency system - Swapping your old, inefficient air conditioning system for a high-efficiency one can cut electricity bills by up to one-third. Schedule a FREE in-home consultation with one of our HVAC specialists to receive an estimate showing how much you can save by upgrading to a high efficiency system.
•  Adjust the temperature - Typically, adjusting temperatures 5–8 degrees (down in winter, up in summer) can help save energy if you're going to be away from home for several hours.
•  Install ceiling fans – Change the direction of airflow on your ceiling fans. In the summer, the blades should operate in a counter-clockwise direction. In the winter, the blades should operate in a clockwise direction helping to push the warm air from the ceiling down into the room.
•  Have annual maintenance performed – Tuning up your cooling system each spring and your heating system each fall will  help ensure each operates at peak efficiency and can help you identify and resolve any potential issues before a breakdown occurs.
•  Don't block vents in well-used rooms – Keep your supply and return air vents free of objects like blinds, carpets or furniture so your air conditioner can operate efficiently and there is even, cool air distribution.
•  Close vents in less-used rooms – By closing the vents, you won't be spending money cooling rooms that are used less.
•  Install a programmable thermostat – A programmable thermostat enables you to control your home's temperature when you're away or asleep. For every 1° you lower your thermostat for seven hours per day, you can save approximately one percent on your heating bill.  Ask us about wifi thermostats!
Here's what a few of our Raving Fans had to say about us!
Absolutely phenomenal experience . As a service pro myself I understand the importance of.follow.up and follow through . From start to finish Mark was excellent.
Mark Jackson has always done what he said. He has always responded timely, and has not charged for unnecessary items. He tells us if something is still okay or needs corrected. We have worked with him numerous times because we trust his judgment and honesty. We highly recommend him to anyone without any reservations.
Jackson Services provided expedient and an exceptional quality of work. I very highly recommend this company for outstanding personal services.
Don't Be Shy
Drop us a line anytime, and we will respond within 24 hours.